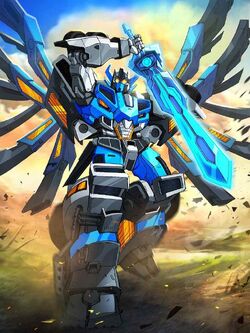 Nova Prime (ノヴァ・プライム, Nova Puraimu) was the predecessor to Nominus Prime. An expansionist and a supremacist, Nova Prime believed that Transformers were the greatest among all life forms and that they should bring their glory to the myriad of lesser races throughout the universe.
Biography
Edit
Voice actor: Scott McNeil (English), Toshiyuki Morikawa (Japanese)
His veichle mode is an Ancient Cybertronian Trailer Truck.
Personality
Edit
Relationships
Edit
Friends/Allies
Edit
Weapons & Abilities
Edit
A singular entity within the multiverse, Nova Prime is one of the Original Thirteen Transformers, created by Primus, to combat the threat posed by his eternal foe, the Chaos-Bringer, Unicron.
Notes & Trivia
Edit