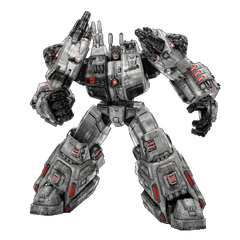 Fortress Maximus (フォートレス・マキシマス, Fōtoresu Makishimasu) is a gigantic Autobot whose alt-mode is a city.
Biograpahy
Edit
Voice actor: Fred Tatasciore (English), Not Known (Japanese)
Hidden beneath the streets and amongst the buildings of Iacon lies Fortress Maximus. One of the ancient titans of Cybertron, Metroplex is awakened by Optimus Prime to defend Cybertron as an Autobot. A Prime must the four ancient Cyber Planet Keys and the Omega Lock into his spark chamber inside the center of city itself, which he only needs and requires for him to be awakened and transformed into robot mode.
Personality
Edit
Primus created him to follow and obey Autobot leaders: the Primes and defend Cybertron from enemies that could harm it like Decepticons.
Relationships
Edit
Friends/Allies
Edit
Weapons & Abilites
Edit
As an Autobot that has an alt-mode of a city, Fortress Maximus is aquipped various and multiple weapons such as cannons, blaster launchers, missles,etc.