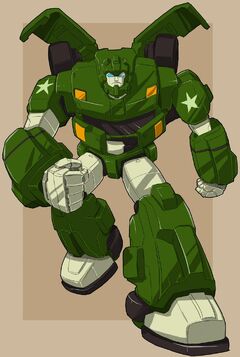 Bulkhead (バルクヘッド, Barukuheddo) is a battle hardened warrior, one of the toughest amongst the Autobots in the Great War as a Wrecker. As one of Bumblebee's friends, he's been mostly (if not usually) haven been scouting, messenging, and fighting together with him.
Appearance
Edit
Voice actor: Scott McNeil (English), Takashi Nagasako (Japanese)
Bulkhead looks smoewhat like his descendant, but the jaw piece is lowered to somewhere on the chin and has 5 fingers on each hand.
His veichle mode is a Cybertronian truck on Cybertron, when arriving to Earth he adapts the Earth veichle mode of a green, military, assault truck.
Personality
Edit
Relationships
Edit
Friends/Allies
Edit
Weapons & Abilites
Edit